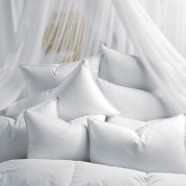 For more than 20 years it has been a joy leading several two-week development courses each year for emerging leaders. One such program is known as Catalyst and it targets great managers in their quest to become great leaders. The elements of the program include current best methodologies taught by a rock star faculty; life planning and coaching; development of a demonstration project; and benchmarking. Yes, we benchmark organizations of all types and their leaders. So, upon the completion of another program just last week, my reflections center on the several of the top-notch leaders we encountered.
Common among these accomplished leaders is the decision to risk a comfortable role in exchange for rapid growth and development. Not just once but many times, these leaders demonstrated the courage to move forward instead of relying the status quo achieved through past performance.
Larry Norvell: Trading comfort for challenge.
Larry Norvell is the executive director of the Zoo Society charged with lending financial support to the Tacoma's Point Defiance Zoo and Aquarium. He has been in this position for the past two and a half years and, along with his staff, has done amazing work in getting financial backing from the public at large and from engaged donors. It was after 30 years with United Way, and then serving for eight years as chief executive officer of the Delta Society (now Pet Partners), that Larry undertook this new challenge. As he clearly stated, he knew he could continue in the celebrated roles he had achieved, but the possibility of moving to a new and unfamiliar leadership challenge was energizing.
 Phil Keisling: Willing to risk for growth.
Phil Keisling, director of Center for Public Service at the Hatfield School of Government, served for nearly a decade as Oregon's Secretary of State. But he was first a journalist, then elected a State of Oregon legislator. Later, he was a senior leader in a high-tech company. He sees his vocational life as four distinct careers, each with its own set of challenges and growth derivatives.
Jennifer Graves: Leaving celebration of success for new tests of leadership.
Jennifer Graves is currently chief executive officer of Swedish Hospital's Edmonds Campus outside of Seattle, Washington. Before that, she has served as a practicing registered nurse (RN), an instructor for RNs, a nurse manager, and then made the leap to leadership. It took six years of focused leadership to rejuvenate Swedish Hospital's Ballard Campus and to have it become an award-winning healthcare facility. But as soon as this ship was righted, she chose to work her leadership magic with another Swedish Hospital campus. With just five months of effort, she is fully engaged in moving the Edmonds Campus to a new level of performance. She remains excited about the challenge and acknowledges her need to continue learning and adapting her leadership skills.
Kirsten Wysen: Moving beyond current expertise to new learning frontiers.
Kirsten Wysen is the Initiative Director for Pubic Health – Seattle and King County. Her past work and advance degree focused upon public health projects, but she continued to see top-down driven initiatives as being less effective than promised. This created a stir in her to look for more community-based solutions with more integrated approaches. As she acknowledged, the limited success of expert-designed interventions created the need for her to expand her expertise. Now she works with communities to design improvement initiatives. She brings system thinking and facilitation to the efforts, in addition to her public health knowledge.
Striving for increased level of effectiveness is the common thread connecting these leaders and the many other outstanding leaders we work with in our programs or as benchmarks. One of our key one-point lessons, Increase in Effectiveness, speaks to the move from a comfort zone to risk to breakthrough. And note, understanding the risks as well as the self-analysis of why you have yet to take such a risk is not the same as actually risking. Leaders often, in fact, experience the downside of risk…at least temporarily. But, although leaders may fall, they do not fail. Getting up after a fall is sourced from an internal drive and purpose-centered life.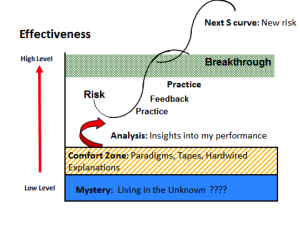 Lesson: Levels of Effectiveness
Increasing in Effectiveness: Early in life we aggressively move away from mystery as we work to figure out life. As we seek to understand the nature of surroundings, and ourselves, we put meaning to events and ascribe create-cause-effect associations. Many of these paradigms work for us; some don't. However, together they form a comfort zone. Within this comfort zone, we have a sense of predictability. That same comfort zone can limit our growth. To grow, we first must see our paradigms and better understand our internal wiring. An analysis of why 'we do what we do' can be a first step, unless the same analysis turns into an excuse for our reluctance to take a risk.
Achieving Breakthrough: Risk is required to make us anew. Taking a risk to expand our skill set or create opens us up to temporary setbacks…possibly achieving less initially than we would have if no change were attempted. But with practice and truthful feedback, results come forth. Breakthrough in performance is reached.