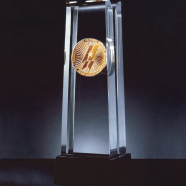 The 100th and 101st Malcolm Baldrige Quality Awards (USA) were awarded by the US Department of Commerce at a ceremony in Baltimore, Maryland, in April of 2014. The National Institute of Standards and Technology (NIST), an agency of the U.S. Department of Commerce, sponsors the award and the American Society administers the process. I had the privilege of attending the ceremony that was coupled with The Quest for Excellence Conference, which looks into the practices of the award winners.
What caught my attention were the two 2013 award winners. The Pewaukee School District and Sutter Davis Hospital are organizations on the medium-to-small size that demonstrate the transformation principle of emergence. Emergence is when breakthrough change rises from within the organization; it doesn't filter down from the top.
Complex systems characteristics of high diversity, adaptation, interdependency and consecutiveness causes top down change to be less effective and it tends to fail in effectiveness. As a result, as our organizations have become larger and more complex, breakthrough is more likely to materialize from strong middle leadership.
Both organizations are part of bigger systems, but their leadership moved to have their respective performance stand apart. Their breakthrough results weren't through top down programs of the larger systems, but the ingenuity and drive of these two smaller units.
What both of the award winners demonstrate is that the place to watch for excellence is in the middle. As our systems become more complex and impacted by global accelerated change big systems have a tough time in charting the course. This doesn't mean they don't have a role. Setting mission, vision and policy are important duties by the governing or parent organization. But for real inventiveness and performance, the transformational changes emerge from the middle and bottom. It is here that purposeful leaders have the leverage to make breakthroughs. The larger organization can hamper or help this concept of emergence. The smart ones encourage and support leaders within.
Transformational Insights:
If you are leading a unit within a larger organization, the opportunity to create breakthrough performance is at hand. Take the resources you have been entrusted with and be bold. Be the transformational leader who goes beyond optimization of resources and instead, uses these resources to create.
If you are at the top of a large organization, cultivate the ground for your leaders to be transformational. Give your leaders the latitude to fashion their units into something unique and powerful…pointing in the direction you have established.
You can learn more about these organizations by reading their profiles on the Baldrige Award site:
Education – Pewaukee School District; Superintendent Dr. JoAnn Sternke
Health Care – Sutter Davis Hospital; CEO Janet Wagner
Read more  about the 2014 Malcolm Baldrige Quality Awards, which have just been announced.
Service: PricewaterhouseCoopers, Public Sector Practice
Health Care: Hill Country Memorial
Health Care: St. David's HealthCare
Nonprofit: Elevations Credit Union